Checkout The Gift Simi Bought For Adekunle Gold. Adekunle Gold recently took to his social media page to praise his wife Simi for her love towards him.
Nigerian singer Adekunle Gold is one of the men who celebrated Father's Day on Sunday, June 20.
In fact, the father of one got a gift for being a great dad from his wife singer Simi and their daughter Adejare.
There is no doubt that Adekunle was excited about his gift as he took to social media to gush over his wife.
Adekunle shared what he received from Simi on his Instagram story.
In the photo he shared online, a Nintendo Game Boy handheld console was seen beside the package it was sent with.
A short note accompanied the gift which reads:
"Happy Father's Day, Moruf. From Magic and Sofiat."
Declaring his love for Simi, Adekunle Gold then advised his male followers to marry right.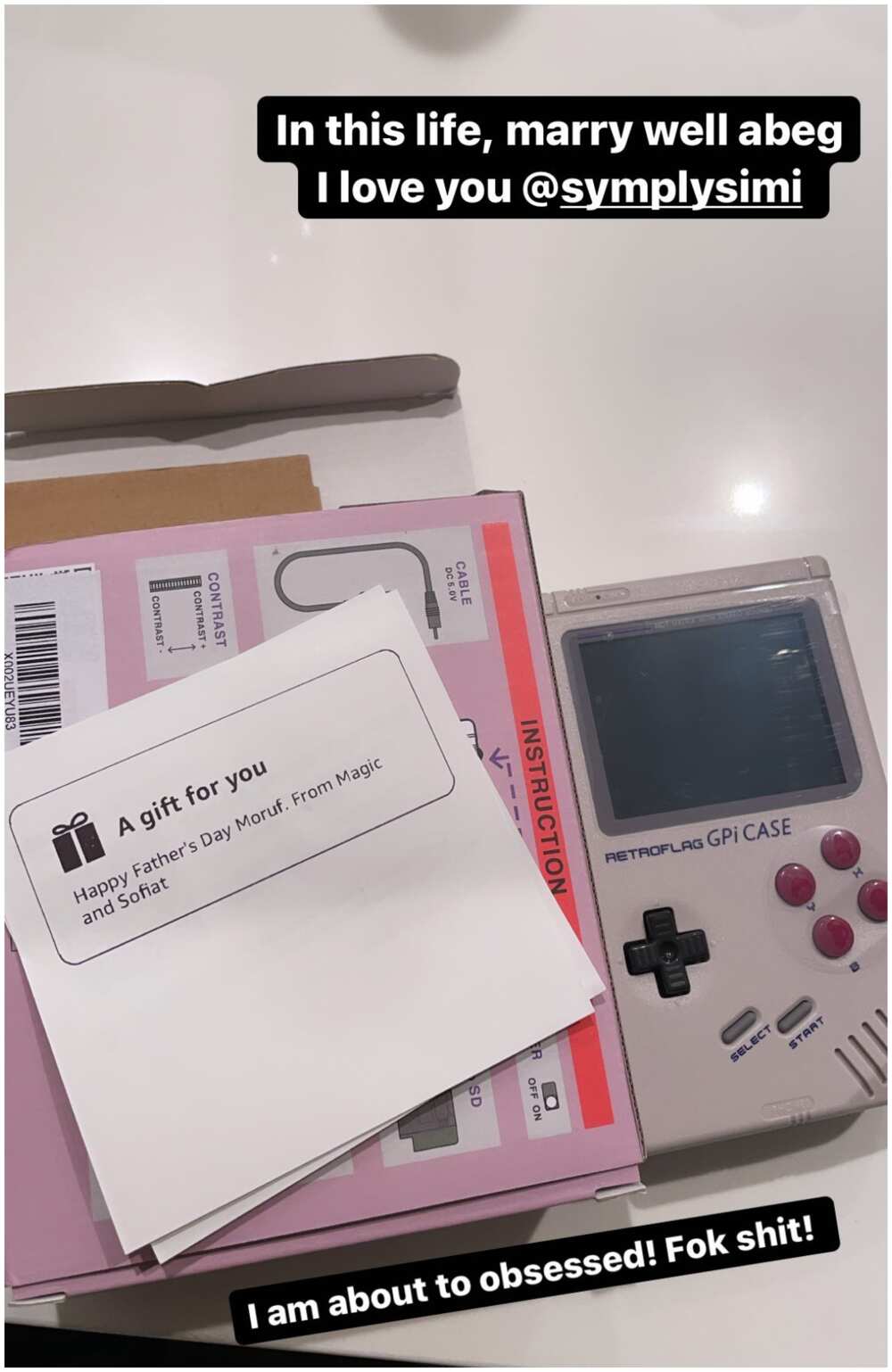 Adekunle married Simi in a close-knit ceremony in January 2019.
 It was later revealed that they had been dating for five years.
They welcomed a daughter Adejare Kosoko Deja in May 2020.
He revealed in 2016 that he bought his first car a 1999 Honda 'Baby Boy' (Accord) from a friend who is a car dealer for 450k.
Gold however said the car eventually got crashed by a friend who took a ride with it.
And he finally fixed the car himself and sold it for about 400k.
The singer has been linked to accusations of infidelity with a popular video vixen, Teminikan.
This was first mentioned on the 21st of March, 2021, by a popular blogger known as GistLover, who posted the photo of the video vixen on the blog's Instagram page warning her to stay away from him.
Screenshots also posted on the said blogger's Instagram page on the same day both confirmed the blogger's accusation and even implied that his wife Simi was aware of her husband's infidelities. 
The accused video vixen, Teminikan, took to her Instagram on the 25th of March to express herself at the impact the accusation had had on her and to thank all the people who stood by her through it all. 
Adekunle Gold and his wife gave no comments on the accusations directed at him.
Checkout The Gift Simi Bought For Adekunle Gold