Laureus World Sports Awards: Naomi Osaka and Rafael Nadal Claim Top Honours (See Full List +Photos & Videos). Japanese star Osaka was named Sportswoman of the Year, with fellow tennis player Nadal winning the men's title and trailblazer Billie Jean King collecting the Lifetime Achievement Award.
Osaka won the US Open for the second time last year and made a powerful statement at Flushing Meadows in support of the Black Lives Matter campaign as she wore different face masks emblazoned with the names of Black victims of police brutality and racial injustice en route to the title.
"I've watched so many of my role models win this Award, so it definitely means a lot now to be holding it," said 23-year-old Osaka. "I am so happy to receive it. It really means a lot to me.
"I think it is important to use my voice, because for me I feel like I often hold back a lot and worry about what people think of me, but you know if you have a platform it is very important you use it.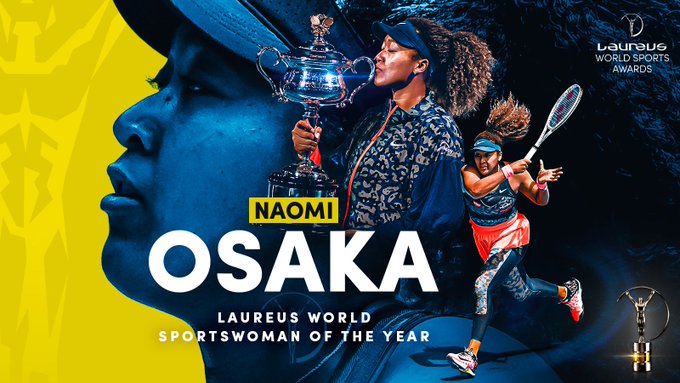 Tennis dominated the digital awards ceremony in Seville as American great Billie Jean King received the Lifetime Achievement award.
The 77-year-old, who won 39 Grand Slam titles, is one of the original founder members of the WTA. She is also an advocate for gender equality and has long been a pioneer for equality and social justice.
Nadal said he was proud to claim the "amazing trophy" of the Laureus World Sportsman of the Year, having also claimed the prestigious award in 2011.
The 34-year-old won his 13th French Open last year, which brought him level on 20 career Grand Slam men's singles titles alongside Swiss great Roger Federer.
"I want to say thank you very much from the bottom of my heart to the Laureus Academy. I have had some amazing competitors," Nadal said. "The rest of the sportsmen probably deserve the trophy the same as me, but this was the year for me and I can't be happier.
"Winning the French Open and equalling the 20th Grand Slam of Roger Federer has been an unforgettable moment. It means a lot to equal my great rival, but at the same time, my great friend. It's something very special after all the history we have had together on and off court.
"The pandemic that we are facing is something unprecedented and I want to send a message of support to all the families that have suffered or lost somebody."
Barcelona legend Lionel Messi also congratulated Nadal on his award, saying: "Hi Rafa. I would like to say that you're an example to everyone – your hard work, your perseverance and for being at the highest level for so many years."
Lewis Hamilton was also recognized for his activism over the past year as he was named athlete advocate of the year for his work in highlighting racial injustice against blacks
Liverpool's Egyptian forward Salah took the sporting inspiration award owing to his advocacy of women's equality in the Middle East.
Bayern Munich was awarded the team of the year.
Others are:
Breakthrough of the Year: Patrick Mahomes.
Comeback of the Year: Max Parrot.
Sport for Good: KICKFORMORE by KICKFAIR.
Sporting Moment of the Year: Chris Nikic.
Laureus World Sports Awards: Naomi Osaka and Rafael Nadal Claim Top Honours (See Full List +Photos & Videos)